Learn more about microcredentials and how to apply them to your teaching. 
What is a Microcredential?
Currently, each of the UM system campuses are working on setting up policies and procedures to support the creation of digital badges and microcredentials (alternative digital credentials).
Alternative digital credentials are visual representation of achievement serving as both recognition of learning and achievement as well as digital proof of that accomplishment (LaMagna, 2017). In addition to a front-facing image representing the badge, it contains a series of metadata that describes what the specific badge signifies, including but not limited to: Who received the badge? Who issued the badge? What were the criteria used to issue the badge? Does it expire?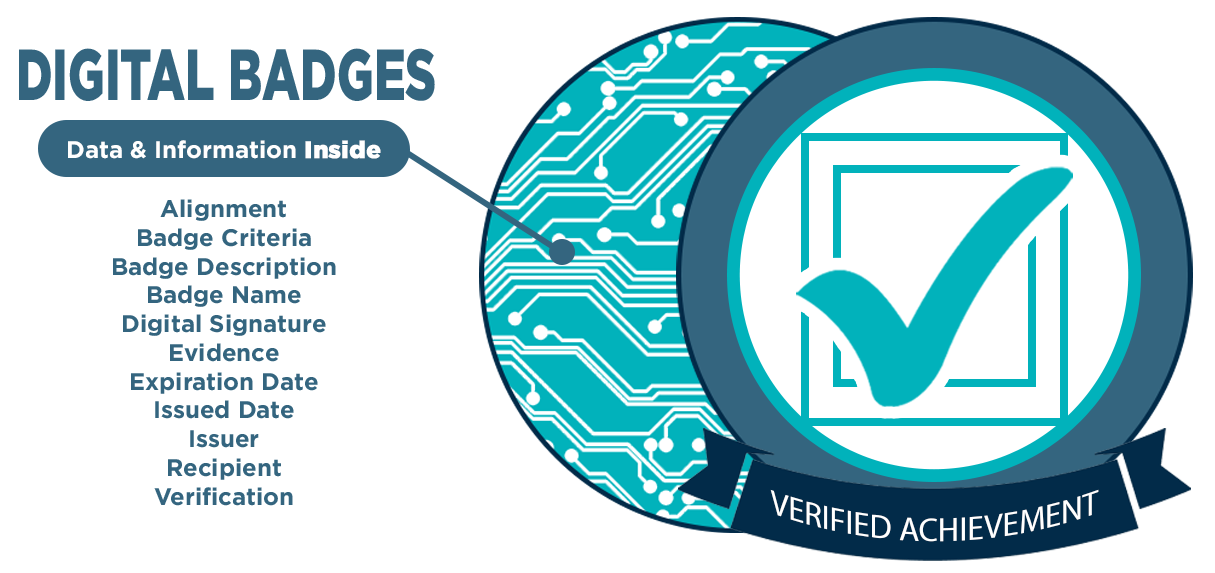 Benefits
In addition to motivating students to develop specific skills and competencies (Carey, 2012), badges offer the following benefits to students:
Enhance a resume or portfolio by providing evidence of a completed task and knowledge gained through the completion of the task
Provide a supportive environment in which students' learning emphasizes and encourages an action-oriented understanding of the course's learning outcomes; 
Foster a deeper understanding of course material
Create practical ways for students to learn in the classroom and share their learning through social media if they choose
Add an element of fun to the classroom by providing an interactive and visually appealing way for students to demonstrate their skills and accomplishments, which can increase their motivation and engagement in the course
A recent study by the Society for Human Resource Management found resumes with both a degree and microcredential are thought to be more compelling than either option alone: "More than 80% of executives, supervisors, and HR professionals said that 'alternative credentials bring value to the workplace'" (ICEF, 2022). Furthermore, a majority of the surveyed employer groups indicated their organization encouraged employees to obtain microcredentials as part of their ongoing professional development and view microcredentialed employees more favorably when considering promotions (SHRM, 2022). 
Ideas for Incorporating Alternative Digital Credentials into Learning
Digital badges indicate skills or accomplishments that can be displayed online via social media and electronic resumes, are easily accessed by the learner through their badging "backpack," and can be verified by selecting the badge to access their associated metadata. They may also be part of a larger credentialing system.
Digital badges can be used in higher education content for a variety of purposes, including (but not limited to):
Awarding a credential upon successful completion of a noncredit program focused on upskilling/reskilling
• Embedding into credit-bearing coursework or into sites such as LinkedIn to signify skills obtained
Bridging Student Learning Outcomes (SLOs) and workplace Knowledge, Skills, and Abilities (KSAs)
Supporting student persistence and retention by gamifying activities in and out of the classroom
Strengthening co-learning partnerships with industry and community partners through co-branded badges
Microcredentials (specifically, digital badges) are used in Missouri Online's Sprint Ahead certificate program. Participants can sign up for single mini-courses focused on design, assessment, community, or inclusion that can be completed in an afternoon!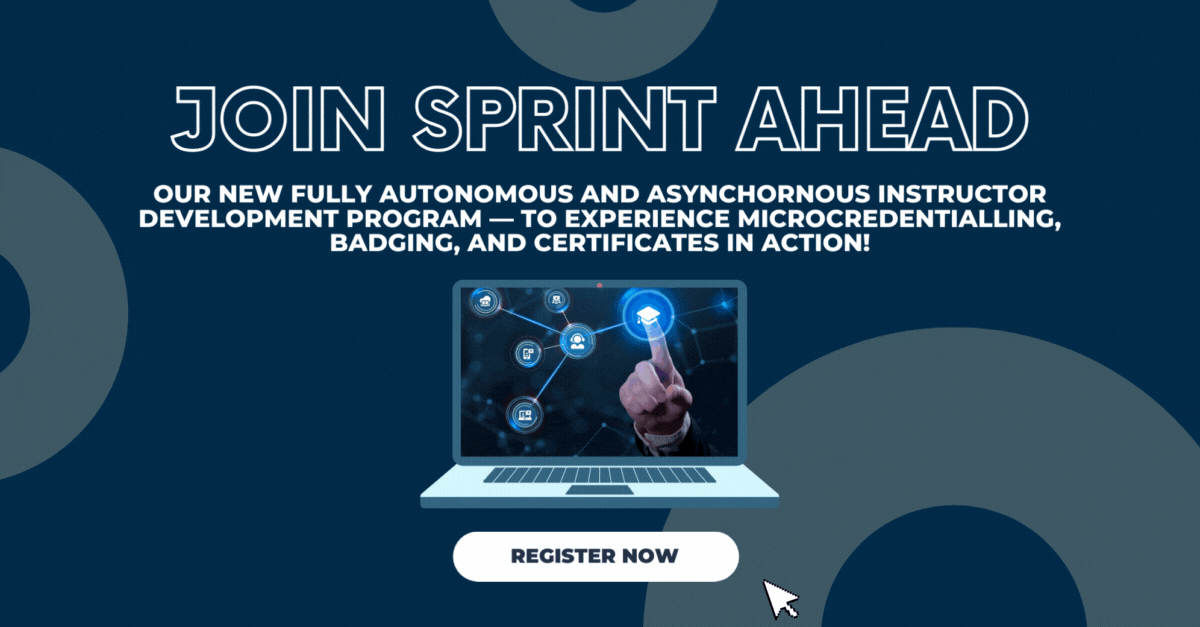 Best Practices for Instructors
Here are some best practices for developing alternative digital credentials:
Establish a purpose

: When determining what badge(s) to offer, consider how they could be used to fill any potential gaps or fill a demand for a better representation of student learning (Mathers, 2016).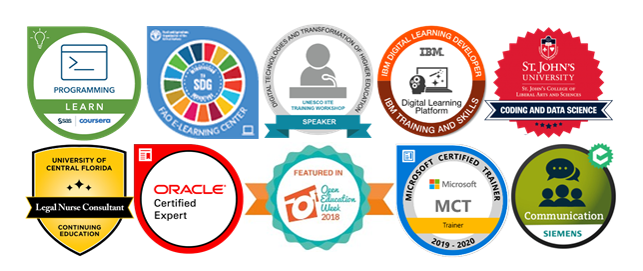 (Certemy)
Create the criteria for badge awarding:

Consider whether badge(s) will be connected to grades, if different levels will be assigned when rewarding (for example "Expert," "Proficient," or "Basic"), or if badges will be tied to the completion of tasks, skills, or competencies?

Work with Missouri Online 

designers to plan for your digital credential.
Get your badge or digital credential approved by your campus leadership.
Example: IS LT 7384/4384 – Designing Games for Learning
Dr. Danielle Oprean's Designing Games for Learning course integrates badges for module completion through Badgr, an app connected directly to her Canvas site. She recommends using a Canvas-integrated badging platform versus an outside tool (like Credly). Read on to learn more about how Dr. Oprean incorporates microcredentials: 
To make the badges more meaningful, I ask the students to track their collection of them and their descriptions. In developing the badges, I appointed descriptions to them through Badgr that last beyond the student's access to Canvas. The descriptions include the skills obtained in a short description that could be used in resumes and CVs or as a documentation of what the students are able to do now that they completed the modules within my course.

So, when I explained badges to my students in the course, I don't refer to them as collecting badges but that they are collecting skills, skills that are transferrable and the badges are proof they have obtained them.

In my most recent exploration of using Badges, I added a secondary set of "Attribute Cards" which aren't monitored by a badging system like Badgr, so they don't link to any credentialling system like Badgr can. However, these Attribute Cards are similar collectibles that get at individual skills that students can optionally explore more during a module and have a record of their efforts. The results of incorporating both Attribute Cards within my modules and the Badgr Badges at the end of the modules has proven highly effective. My students are more engaged and really put in effort with optional materials that improve their final submissions. I also get fun comments from my students when I inquire about the collectibles throughout the course and I've been told one "Oh, I have to get them all!" which is a very similar phrase to the well-known video game Pokémon whose catch phrase is "Gotta catch them all!".

In terms of the benefit to students, I believe the badges and my latest addition of Attribute Cards have really pushed the boundaries of a consistent way to engage my students. It is always interesting to see which badges are collected, and now with Attribute Cards as well, because it informs me of which modules were really engaging and useful to my students. It helps me identify where I need to make improvements and where I need to let modules continue working the way they are. It also shows which topics within the modules are currently beneficial and that alone has helped me improve my course content to be more learner-centered. Beyond the badging itself, setting a course-long goal for a few extra credit points earned from collecting these badges and attribute cards has been an interesting way to gamify the collection experience.

—Dr. Danielle Oprean
A backstage view of Badgr indicating the metrics for awarding respective badges in Canvas.
The "Analyzer" badge awarded to students after completing the required module content. Students can display these badges on social media pages connected to their Badgr account.
Dr. Oprean uses these "Attribute Cards" to recognize students that choose to explore optional content to increase skills.
Canvas Credentials
UM System has recently acquired Canvas Credentials, and Missouri Online is working with leadership at each of the campuses on the policies and processes. Canvas Credentials is a badging and microcredentialing platform, built upon Badgr, that allows campuses to award badges to individuals for mastering certain concepts or reaching specific achievements.
You can learn more about the specific policies for each campus by using the links below as they are developed:
University of Missouri: COMING SOON!

University of Missouri - Kansas City: COMING SOON!

University of Missouri St. Louis: COMING SOON!

Missouri University of Science & Technology: COMING SOON!
The digital badging ecosystem and taxonomy will continue to evolve in response to program and learner needs. If you don't see your campus policies listed on this page yet, please ask us at teachingtools@umsystem.edu to see if we can move forward with your badge at this time. Once your badge has received campus approval, we'll be happy to help you get it set up. As always, if you would like one-on-one support, please reach out to our office; we will be happy to help you with the planning for your badge(s) at any time.
Final Thoughts
Overall, using digital badges can help create a more engaging, interactive, and personalized learning experience for students, while also providing them (and their future employers) with a more comprehensive view of their learning and achievements.
References
Carey, K. (2012). A Future Full of Badges. The Chronicle of Higher Education. http://chronicle.com/article/A-Future-Full-of-Badges/131455/ 
ICEF Monitor. (2022). Are employers recognizing alternative credentials in hiring decisions? https://monitor.icef.com/2022/04/are-employers-recognising-alternative-credentials-in-hiring-decisions/ 
LaMagna, L. (2017). Placing digital badges and micro-credentials in context. Journal of Electronic Resources Librarianship 29:4, 206-210, DOI: 10.1080/1941126X.2017.1378538
Mathers, B. (2016). Credentials big and small… [illustration]. bryanmathers.com. https://bryanmmathers.com/credentials-big-and-small/ 
O'Brien, K. (2018). Badging Best Practices University Libraries Faculty Scholarship. 145. https://scholarsarchive.library.albany.edu/ulib_fac_scholar/145?utm_source=scholarsarchive.library.albany.edu%2Fulib_fac_scholar%2F145&utm_medium=PDF&utm_campaign=PDFCoverPages 
Society for Human Resource Management. (2022). SHRM Report: Survey Finds a Rise of Alternative Credentials in Hiring. https://shrm.org/foundation/about/Documents/The%20Rise%20Of%20Alternative%20Credentials%20In%20Hiring.pdf
Author