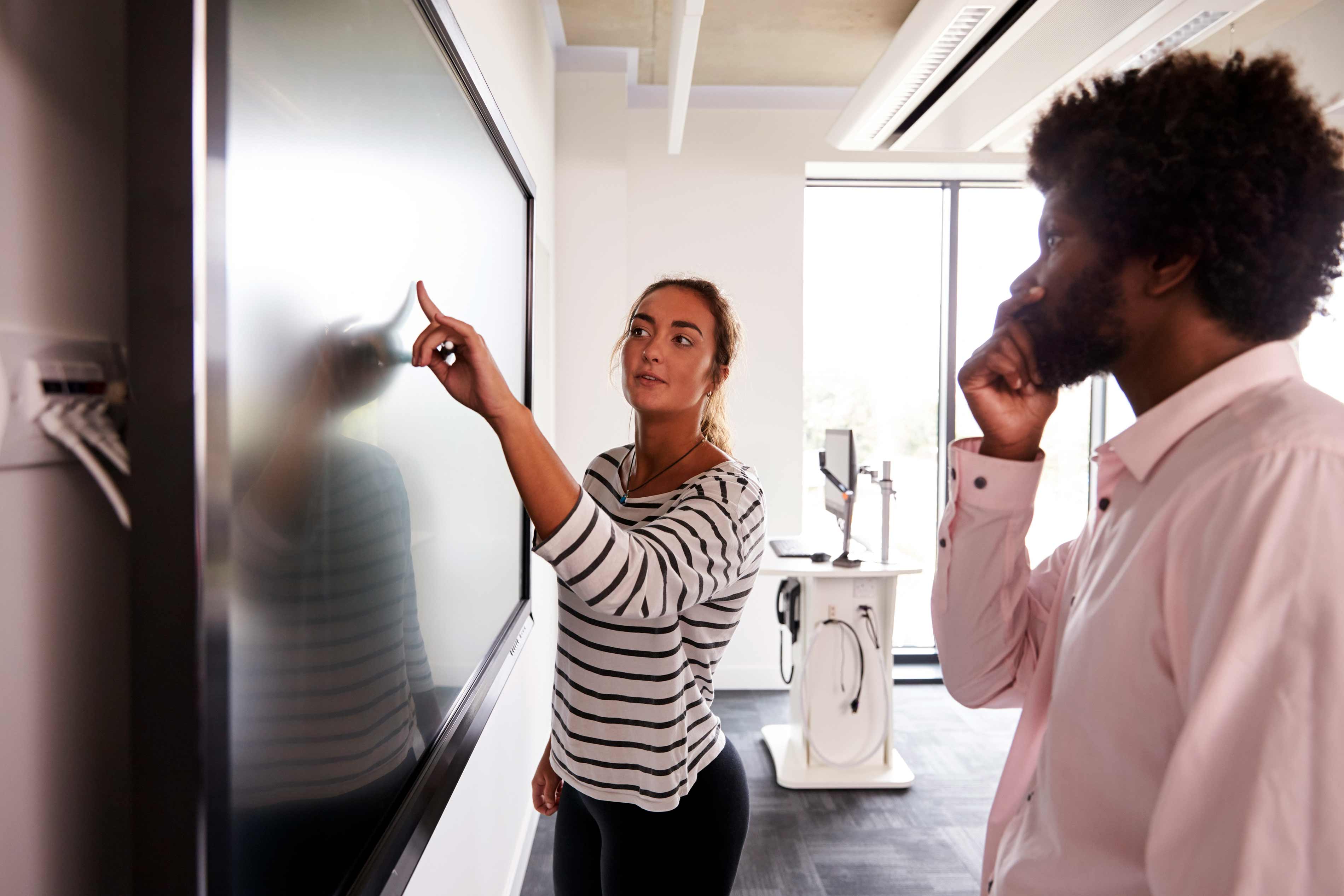 Online courses have had a moment during this pandemic. Even now, many learners who have found a stride online are rethinking their in-person commitments. They're also asking fundamental questions, like: "What do I get from this inflexible course that demands I wake up before noon?" 
As a sleep-lover myself, I get it. Online and hybrid courses are now something that we're nearly all familiar with. Now, let's think about the one thing that a student can get from in-person versus online: is it immediate interaction / feedback?
If you're thinking "yes," then I have some news for you. We (humans) value connectivity, that's true. But one way to achieve that online is to add real-time interactive features to your course. Yes, it can be done!
Let's take a look at Google's Jamboard:
"A collaborative, digital whiteboard makes it easy to create without boundaries and share ideas in real time. Jamboard moves the whiteboard to the cloud." Learn more
Basically, you and your learners can work together, in real time, no matter where people are located.
Now let's take a look at some activities faculty have used this for:
Brain dumps: Students record anything they remember on a topic 
Equations: Show students how to break down the information, then have them try
Peer editing: Help students edit each other's creative writing 
Sorting wall: Students can sort digital sticky notes into different categories
Label a diagram: Post a diagram and have students label and explain the parts
Annotate a reading: Post a reading and do a live annotation and discussion
Class feedback: Take a poll, build a graph, brainstorm 
As you can see, you're only limited by your imagination. But you can start by thinking about your own whiteboard / chalkboard — and then just substituting it out for a digital version.
You're excited and ready to Jam, but you're wondering how you can add it to your Canvas course. It's pretty simple, so just follow along with me:
Go to jamboard.google.com
Click on the "+" to create a new Jam 
Play around. Go nuts.
Click "share" in the top right
Change the settings so that you're sharing with "everyone who has a link" — and you may want to change their status so everyone can edit. 
Copy the URL 
Go to your Canvas course
Go to the modules and to the module you'd like to add the Jam
Click the "+" to add content
Select "External URL" from the drop-down menu
Paste the URL and click "Add Item" 
Now, your students will be able to access the jamboard straight from your modules.
You can choose to give students hours, days or weeks to work on the Jam — or it can serve as a kind of "instant feedback" especially if you're teaching via Zoom. You can also set a schedule for your students to join you on the Jamboard, perhaps for a weekly overview. 
"With great challenge comes great opportunity," I'm sure someone once said. This past year has been a challenge, but that doesn't mean you can't still provide meaningful engagement opportunities for your students. It just means you have to try something new. Jam on! 
Here's some videos to help you get started:
-Seph Lundolos, Media Designer