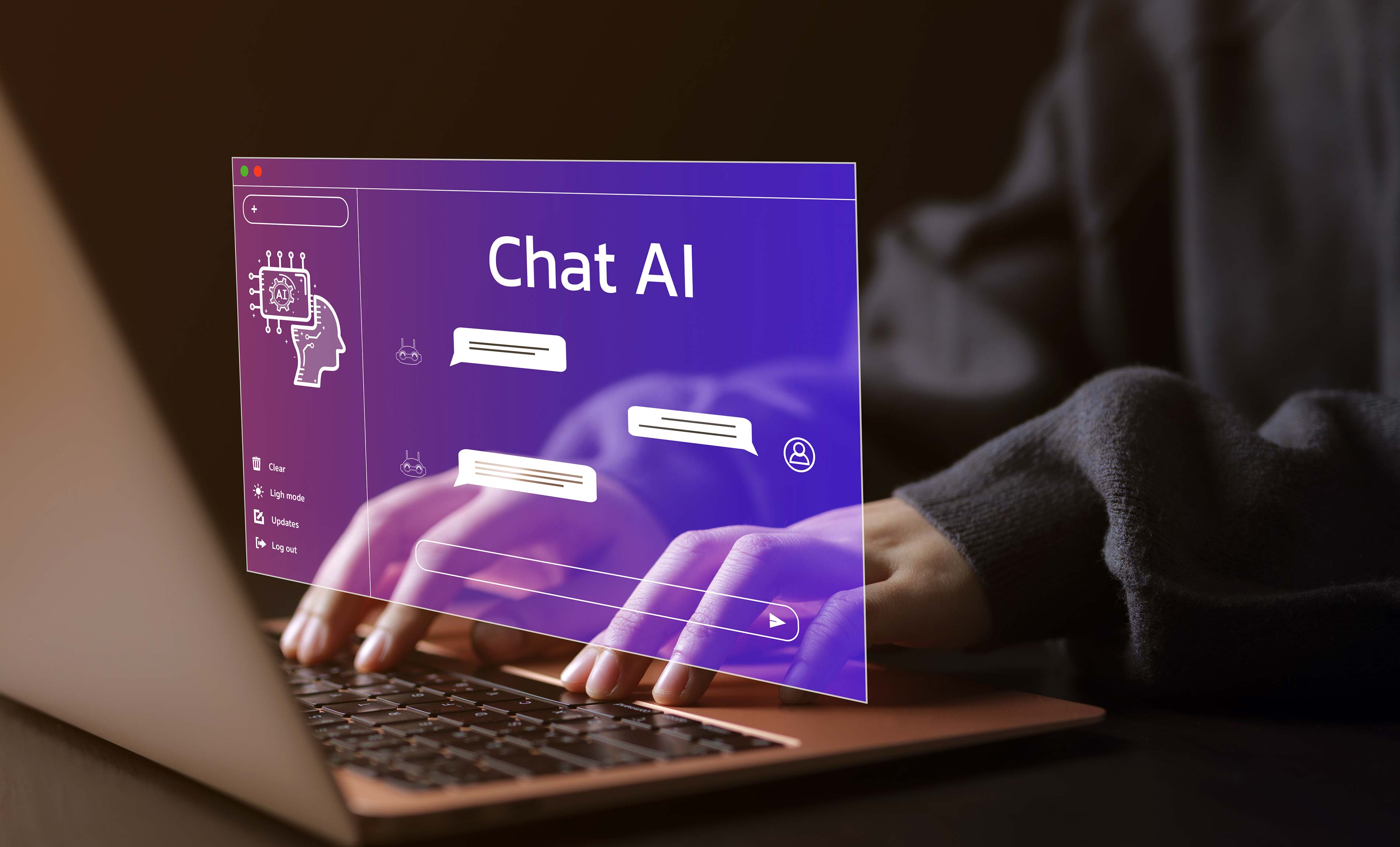 Eight months after the introduction of ChatGPT, it is in widespread faculty and student use, has raised cheating concerns, created the need to reframe or revise assignments, and raised numerous questions of ethics and policy. Meanwhile, it, and other generative AI (GenAI) tools are growing in power and sophistication.
New possibilities and concerns are being raised by the integration of GenAI tools into search engines, office suites, operating systems, and courseware. Meanwhile, additional capabilities are being opened up by plugins for ChatGPT and customized applications built on the basic or foundational models, such as GPT, PaLM, Stable Diffusion, and DALL-E.
What UM faculty report
A Spring 2023 Missouri Online faculty survey about GenAI concerns, interests, and issues showed a strong mix of concern and interest:
Respondents were nearly unanimous in being concerned about student use of AI tools for assignments, and just over half had concerns about tests.
Just over half expressed interest in AI detection software, with only 8% not interested.
Despite the concerns, when asked if they have, or are contemplating, using AI as part of one or more assignments or modules in a course, 28% responded yes and another 35% maybe.
In open-ended questions, as well as in other conversations with Missouri Online staff:
Instructors expressed concern about seeing essays they believed were written by AI but could see no way to pursue action against the students.
Others expressed anxiety about privacy and disinformation or a lack of quality in communication.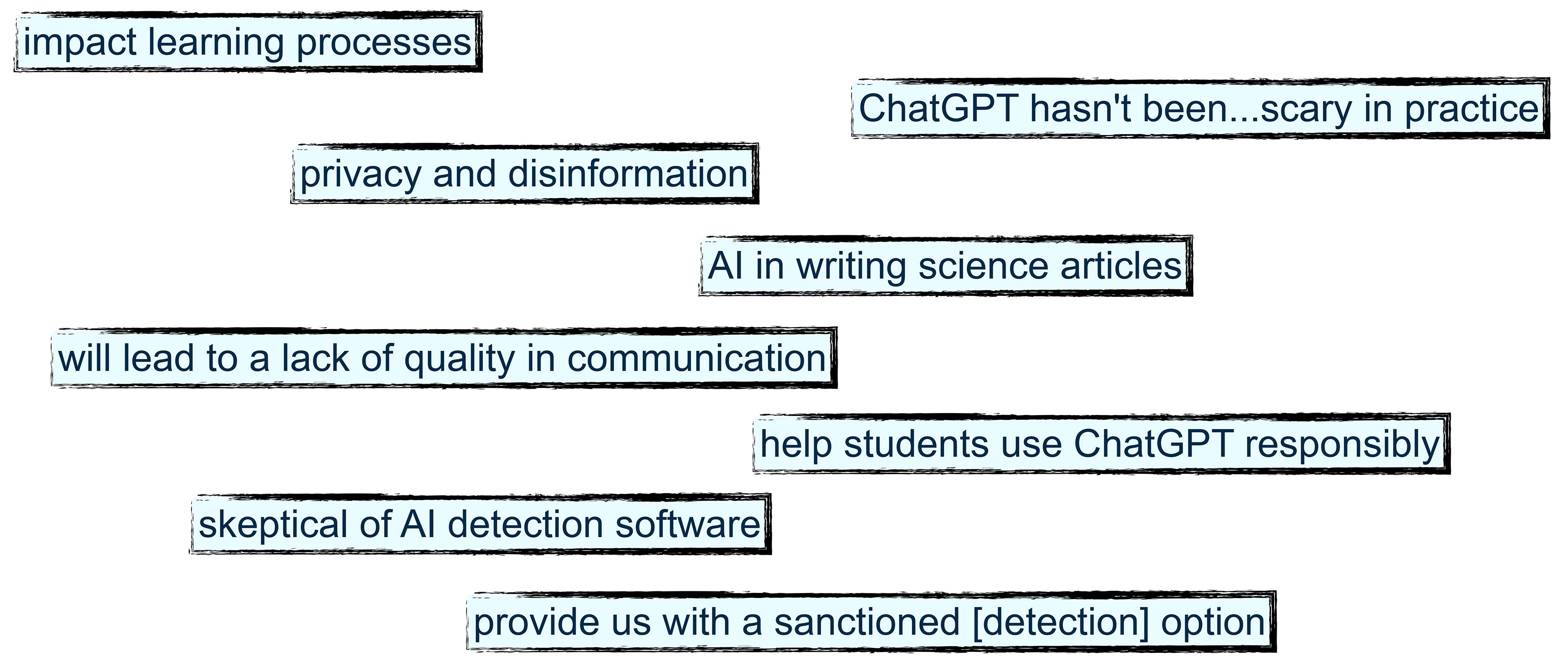 Assignments in the age of generative AI
A number of instructors are using assignments to educate students about the possibilities and limitations of GenAI. At this point, there are three primary use cases in assignments:
To teach students how to use AI tools, including possibilities and limitations.
To learn about AI ethics and other implications.
To learn with AI, where AI is not the point of the assignment but is simply used as another tool. We can expect this type of assignment to grow as GenAI is integrated with more and more existing applications, and as new ones emerge.
Image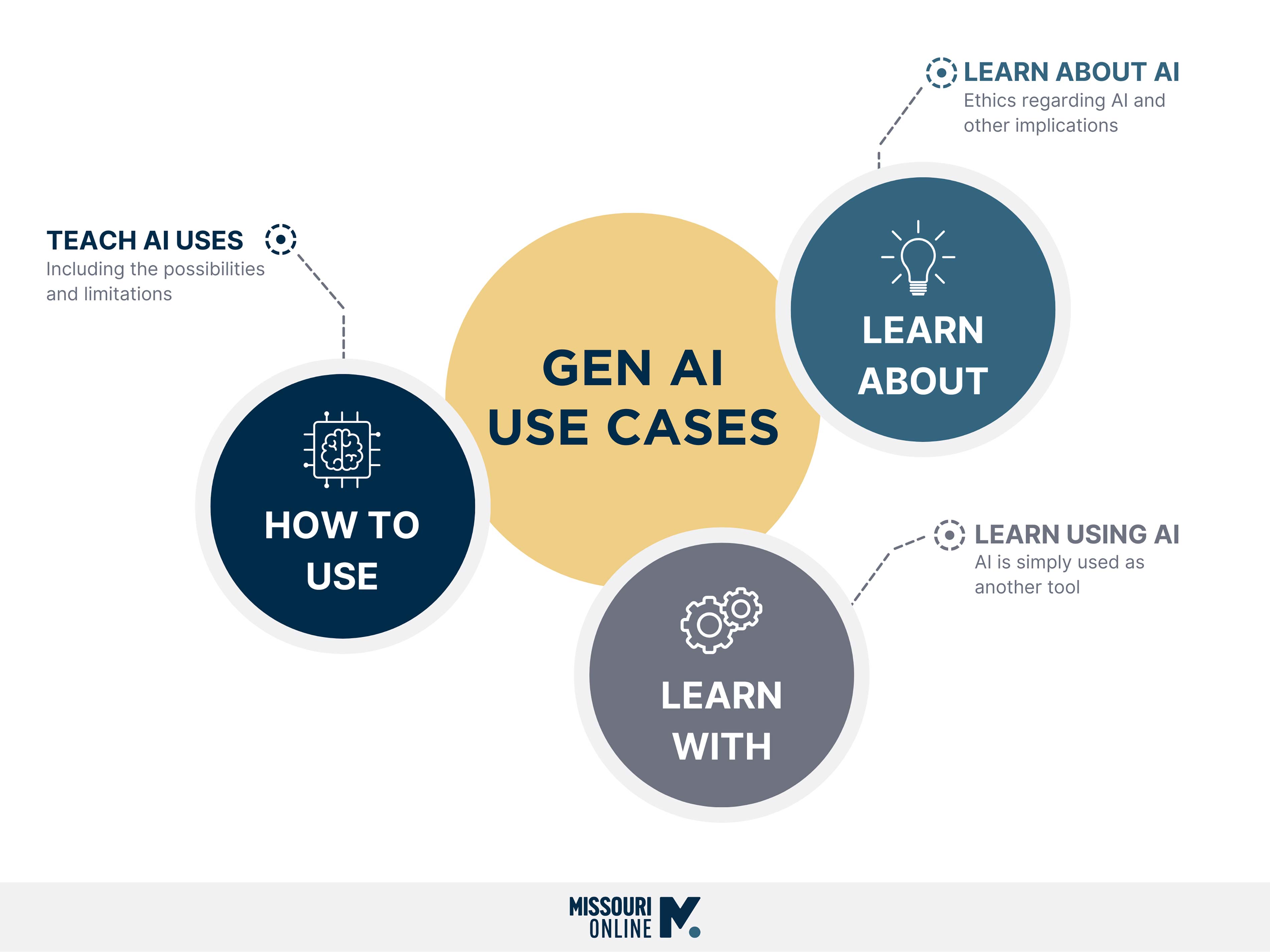 Writing assignments seem to be more common at this point, though, as the technology becomes more multi-modal (capable of taking input in many different formats, likewise returning content that may range from text to images, sound to video, computer code, graphs, charts, etc.), this will change.
Typical assignments this past Spring semester included:
Having students compare AI-generated content with their own work or existing papers.
Proofreading, fact-checking, and editing AI content as if producing publishable articles or social media posts.
Querying ChatGPT on a specific topic and having students critique its capabilities or explore the ethical and social implications of its output.
Brainstorming and researching ideas for an individual or group presentation.
Generating content with ChatGPT and then using it to evaluate its own work.
AI detectors
We also know that faculty are using it in a variety of ways. Some may have used AI Detectors to try to spot AI content. These tools themselves are a form of AI. They are generally inaccurate and produce many false positives. In some cases, instructors at other institutions have tried to rely on ChatGPT, Bard, or other GenAI tools to tell them if AI generated the papers. This is a very bad idea, as the AI will usually claim the content as written by AI and can write a false justification. It has caused scandals at some other schools.
Instructors are using GenAI for creating quizzes, assignments, presentations, or whole learning modules. In some cases, the use may be minor. An MU Law professor uses Midjourney to create non-copyrighted clip art for his PowerPoints. In other cases, it may be significant, as in producing the draft of a learning module and most of its parts.
The Board of Curators recently approved a new section on AI for the Student Code of Conduct (200.010 Standard of Conduct). The new policy gives instructors wide latitude in allowing or disallowing use of GenAI by students in their courses.
Let us know how you use AI, your concerns, or what you would like to try through our survey or by email at: teachingtools@umsystem.edu.
University resources on GenAI
External resources on GenAI
Author