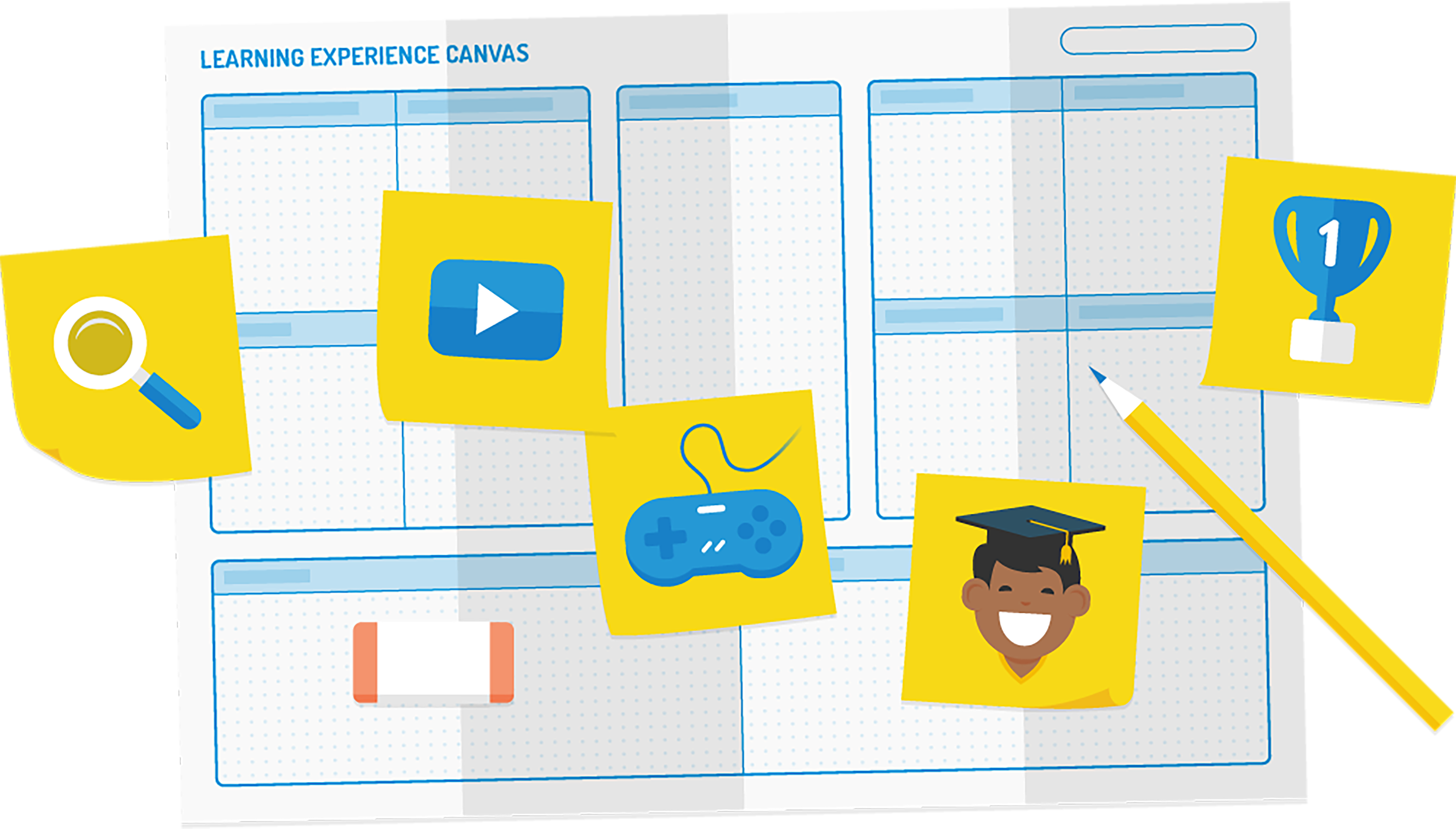 It can be difficult coming up with activities for your online course that learners will find meaningful, challenging, and rewarding. But rest assured—there are tools to help you with that! One of these is the Learning Experience (LX) Canvas, introduced by Niels Floor at the LX design agency Shapers (available at LxD.org).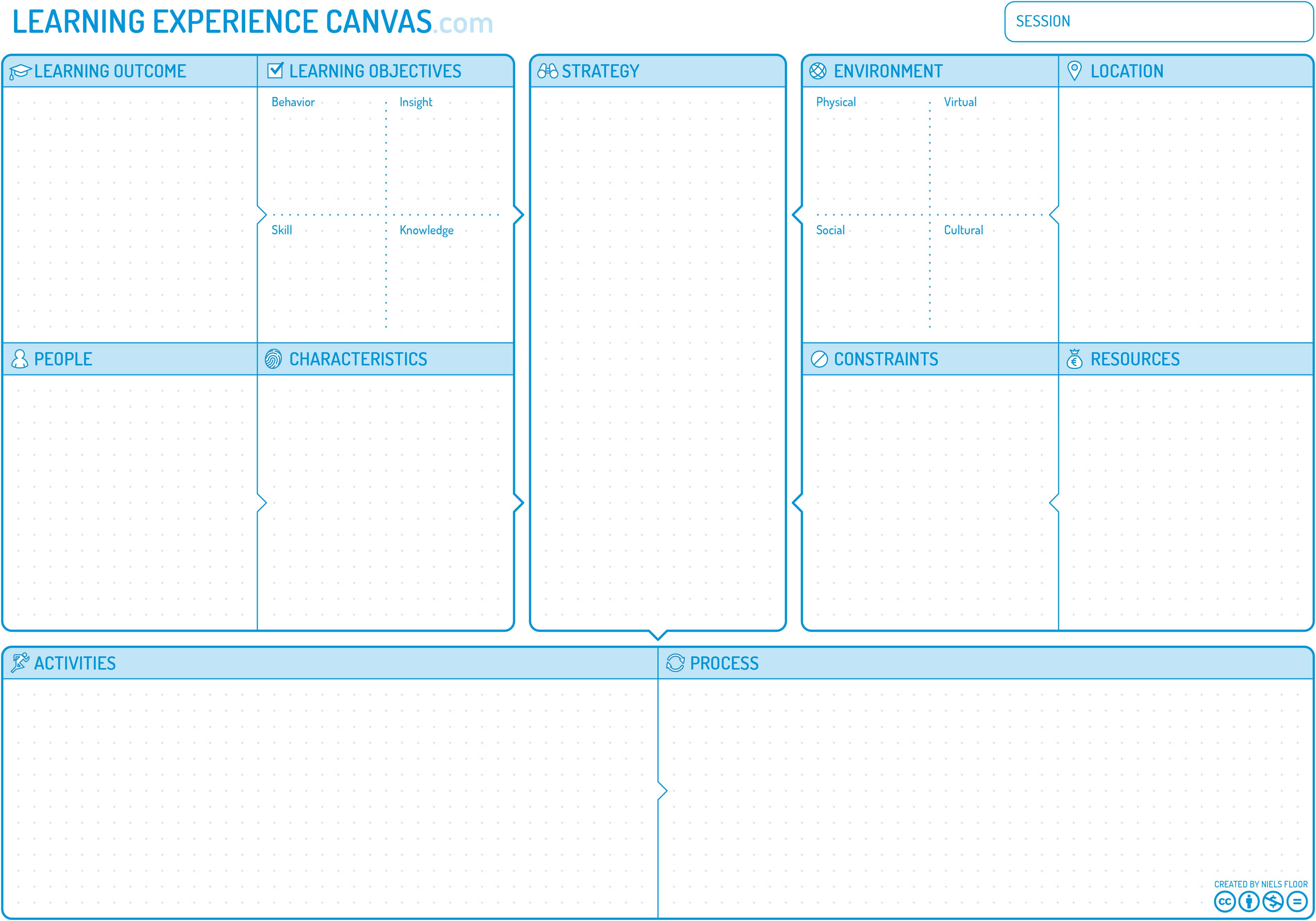 Not to be confused with the Instructure Canvas LMS, the LX Canvas is used to create improved learning experiences by breaking each one down into categories, including the people involved, the resources available, and the process used to arrive at the intended learning outcome. These categories are placed in a grid where you can see the overview at a glance and change things up as needed. In all, there are 11 elements on the LX Canvas. This short video presented by Niels Floor explains each element.
The key to using this grid is to take it block by block, starting with the top half and working your way down. This way, you can take all the items in the top half into account when creating the activities and the process in the lower half. The top section can be filled in either from the left or the right, but try to fill in the strategy last before moving to the bottom section. It helps to know the other information before creating the strategy.
Keep an open mind when filling out each section. For example, learning can happen in more places than just a classroom. And for each location there will be different constraints and resources as well as some similar ones. It's up to you to think through the options available to achieve the desired learning outcome.
After you have completed the top section, next move on to Activities and Process. These describe what you are going to do to reach the outcome and how you're going to do it. If you're having a problem figuring out the activity (game, workshop, etc.), then you might need to rethink the strategy and make sure it's clear by writing some "if…then" statements to create the design guidelines of your strategy.
Finally, don't limit your process! It can be something quick or more involved, depending on the activity you choose. The more you use the LX Canvas, the quicker and easier it will be to implement it.
For inspiration, check out the following filled-in LX Canvas that we created for a fictitious Dutch company as part of the LXD course. Note that the learning experience in the example takes place in a corporate environment, but the same principles apply in an educational setting.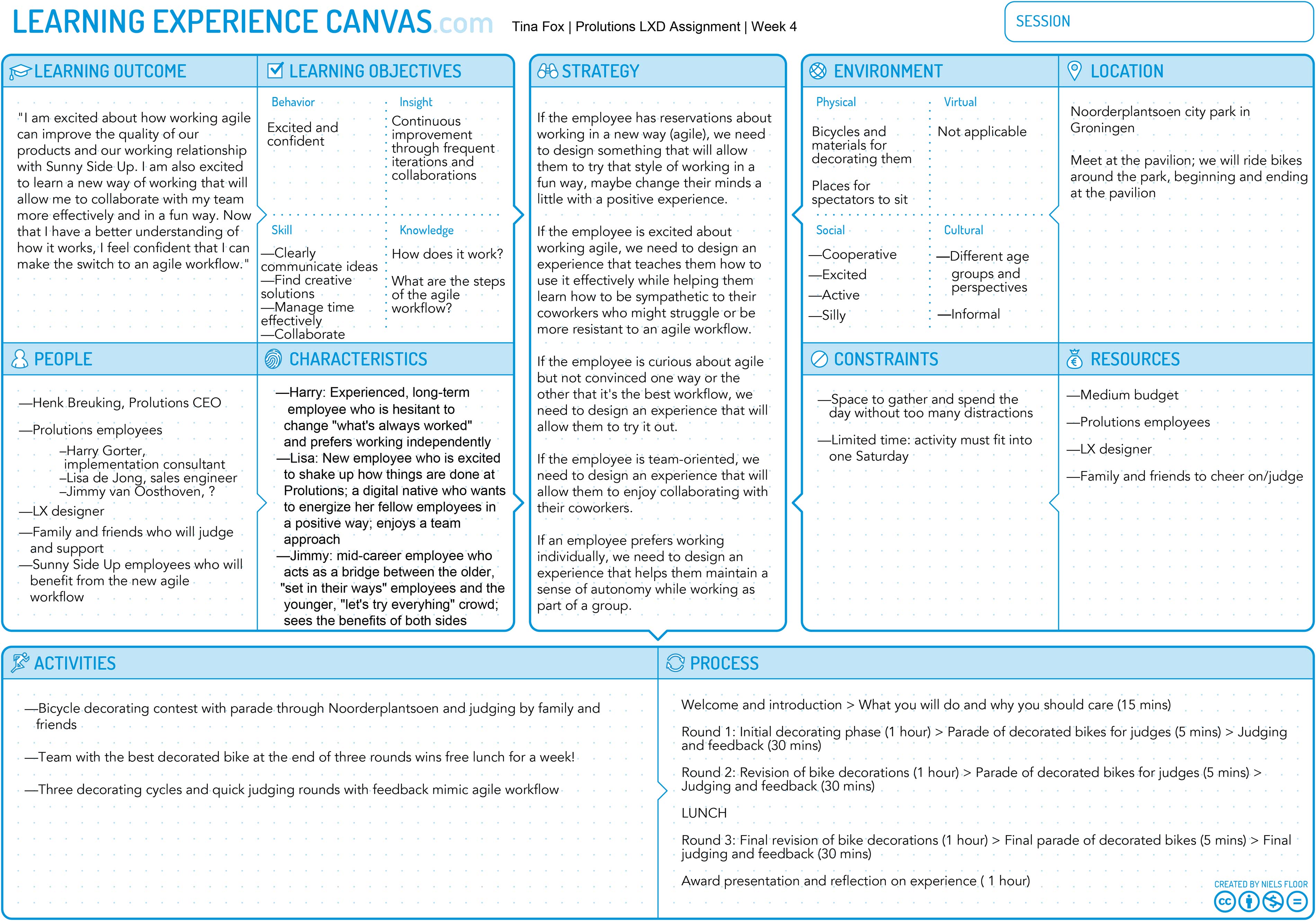 Remember the "Three Ps"
As you fill in the LX Canvas, keep in mind that your goal is to create memorable, truly great learning experiences. Niels Floor recommends designing your activities around the "Three Ps": (1) positive, (2) personal, and (3) profound.
Positive
Ideally, your course activities should make students want to learn. So try to make them as appealing and enjoyable for your learners as possible. Tap into that motivation factor! Define what your learners will get for their effort to ensure your course activities are rewarding and will leave them with a positive impression.
Personal
You want to create unique experiences for unique learners. So remember to make your learning activities adaptable to individual needs, and try to make them as authentic as possible. Have your students work on projects that feel real to them! By keeping things social and human-centered, you ensure that they will get the most possible out of each learning experience.
Profound
Finally, make sure that the activities you design are both challenging and meaningful. You want your students to feel the satisfaction that comes from overcoming obstacles—or learning from mistakes—and the confidence that what they're learning has a point. Creating powerful learning experiences is your chance to have a lasting impact on your learners!
Learning Outcomes vs. Objectives
A common pain point when filling in the LX Canvas is to confuse learning outcomes with learning objectives. It might be helpful to think of the learning outcome as the overall result of the learning experience—in other words, what the learner will gain from the experience—while the learning objectives are the instructor's intentions and expectations for the student. . (To review the distinction between "outcomes" and "objectives," see Shifting to Learning Outcomes.)
It's important to note that the LX Canvas breaks learning objectives into four types: insight, knowledge, skill, and behavior. Each of these objective types is related, so you want a good mix of all four. Your objectives should focus on the insights and knowledge you want your learners to come away with, as well as the skills and positive behaviors.
How the Double Diamond Model Can Help
You might find it helpful to use a tool like the Double Diamond Design Model as you brainstorm ideas for your learning experience. It can help you organize your thoughts before you start filling in the LX Canvas.
So, how does it work? Starting with the diamond on the left, you first identify the challenges and needs of your learners and then converge on potential solutions, a.k.a. "designing the right things." You then move on to the diamond on the right and develop and test your ideas, making sure you're "designing things right."
Note that you aren't limited to following the model in a linear order; you can jump back and forth between the different stages as you go, testing and refining your learning activity until you think it might be ready to refine even further with the LX Canvas. Just be sure not to fall into some common pitfalls such as (1) listing existing ideas, (2) listing learning objectives instead of ideas, and (3) taking an existing idea and tweaking it slightly. The goal of this is to broaden your mind.
Final Thoughts
Using the LX Canvas, you can organize your ideas in one location, change things up if it doesn't seem to be working, and use its companion, the Double Diamond model, to help design for the right problem.
When you think you're down to the last bit of your creativity, find it again by using the LX Canvas. With a little practice, even on smaller, everyday projects, you can be more creative in coming up with assignments and activities that will be appealing, unique, and meaningful to your students.
Authors